The mobile OS with built-in privacy
The Mobile OS with built-in privacy
Sailfish OS is a European alternative to dominating mobile operating systems, and the only mobile OS offering an exclusive licensing model for local implementations.
On the market since 2013, and now already in its 4th generation, Sailfish OS offers a secure platform for trusted mobile solutions. With Sailfish OS you can also run Android™ apps with our dedicated App Support solution.
Sailfish OS is managed and developed by Finnish company Jolla Ltd.
Customize to your needs
Features
Adaptability is in the core of Sailfish OS. It can be adapted to different corporate and governmental needs in various ways and to various levels.
Sailfish OS has configurable device policies to match different security requirements and easy extension points to roll your own apps, cloud accounts, location providers, VPN solutions, authentication methods, and so on.

Hardware
Sailfish OS has been ported to almost a hundred different devices* with new devices added regularly using our Hardware Adaptation Development Kit. Wide support for different chipsets and hardware variants mean supporting new mobile devices is a breeze using the open adaptation projects. You can always try Sailfish OS with a dedicated device using Sailfish X.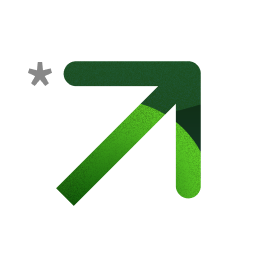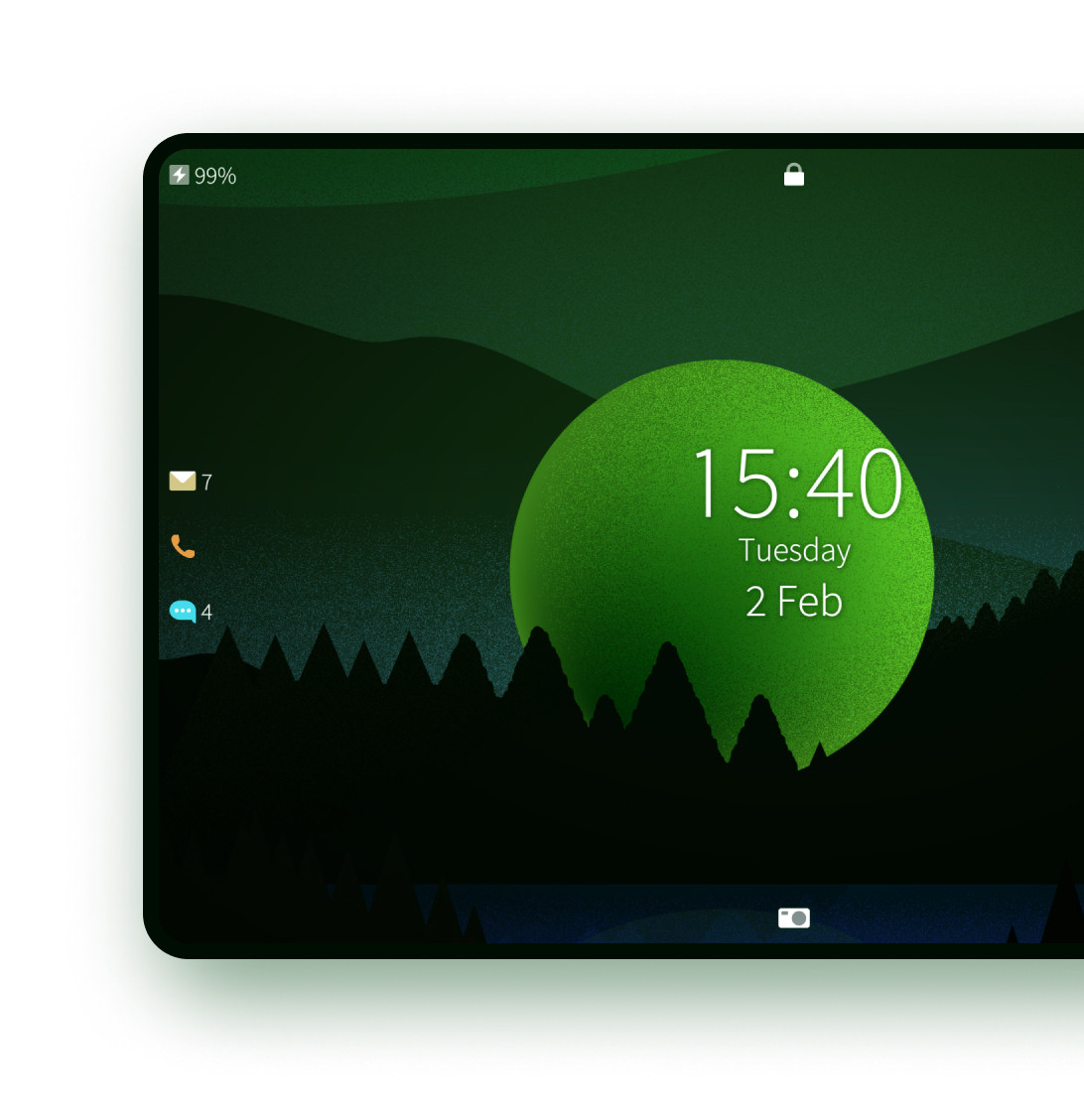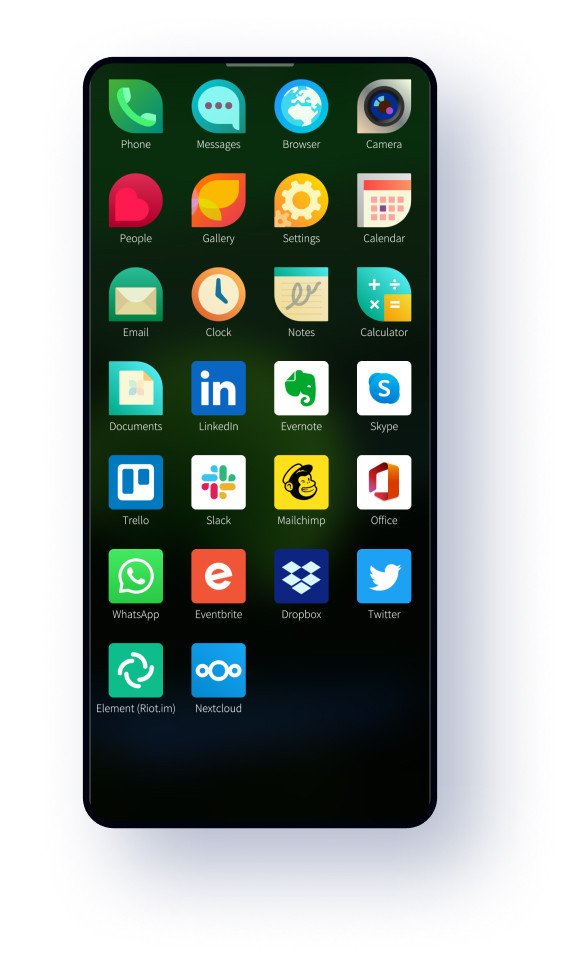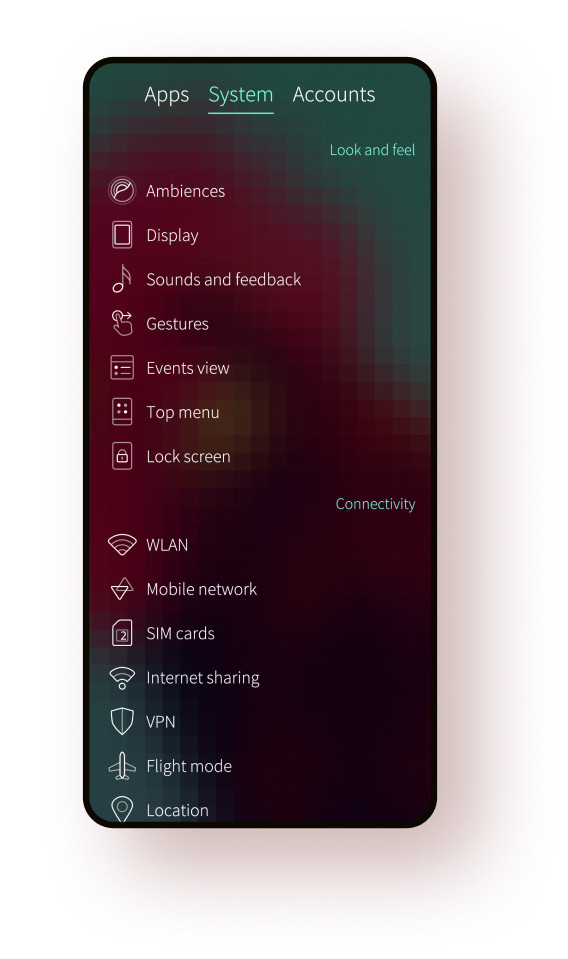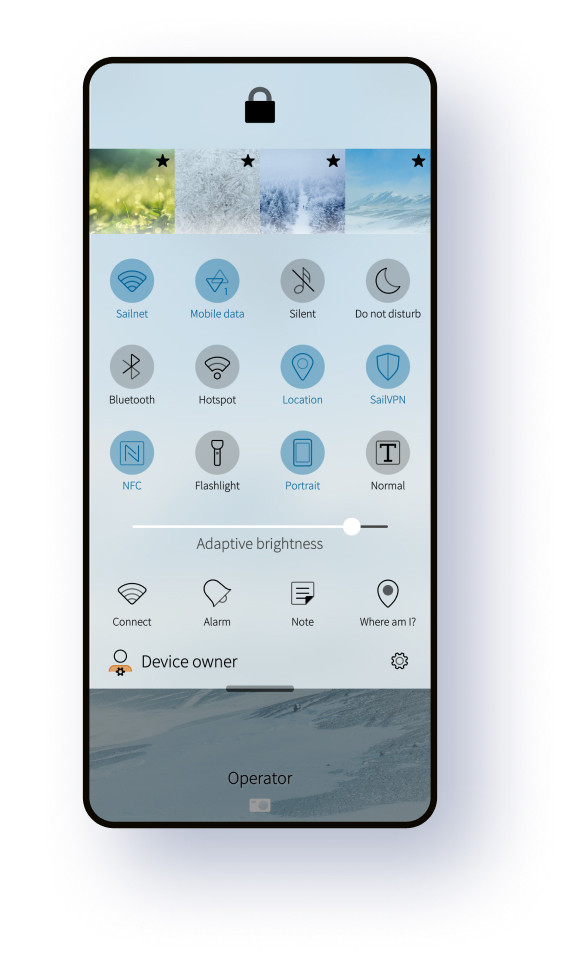 User Interface
Sailfish OS has been built ground-up to scale to different form factors and input styles. Sub-pixel scaling support means Sailfish OS works beautifully on any display size, from small smartwatches to smart TVs.
Furthermore, fully customizable preloaded content helps you tailor the OS to your needs: wallpapers, tones, photos, videos, bookmarks, even small details like default email signatures, Bluetooth and hotspot names can all be easily rebranded. The centralized style asset makes it easy to further customize the experience with layouts, icons, fonts and effects.
Dedicated device mode
Sailfish OS is smart at heart, but also a great companion for single-purpose devices designed to handle a few functions really well.
Focus on creating a great product experience, and let Sailfish OS worry about the nitty-gritty technical details like connectivity, security, user management, over-the-air updates, and other OS services.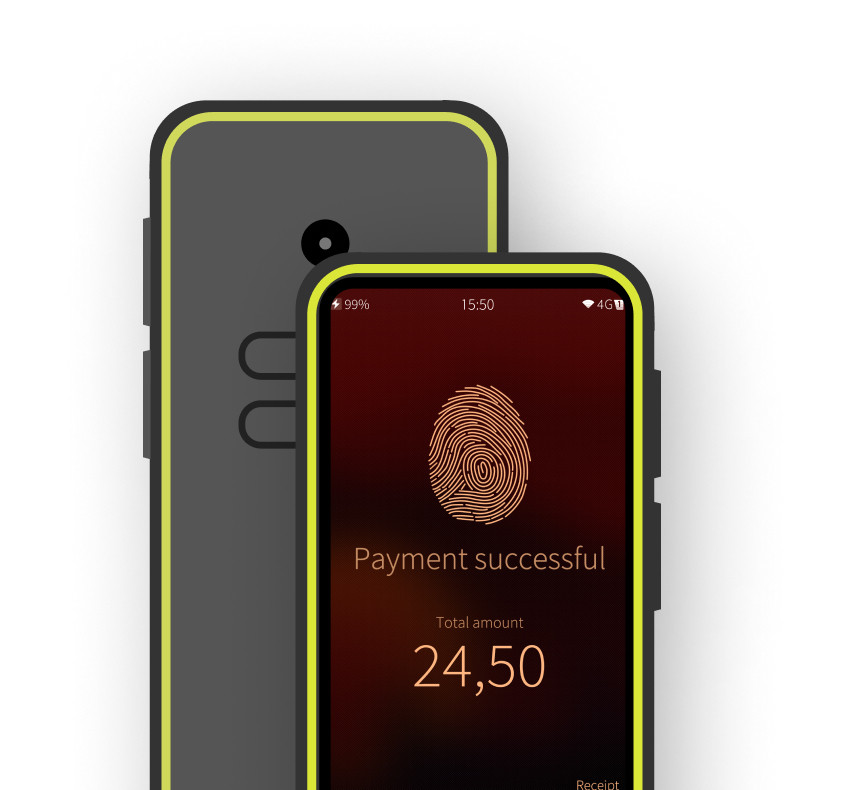 World-class mobile device management for corporations
Mobile device management (MDM) support in Sailfish 4 is designed to meet even the most demanding corporate needs with APIs to remotely set up devices, provision settings, define policies, and manage installed software. Monitor data, call, and SMS statistics, publish remote notifications, and define call and SMS filters. And much more.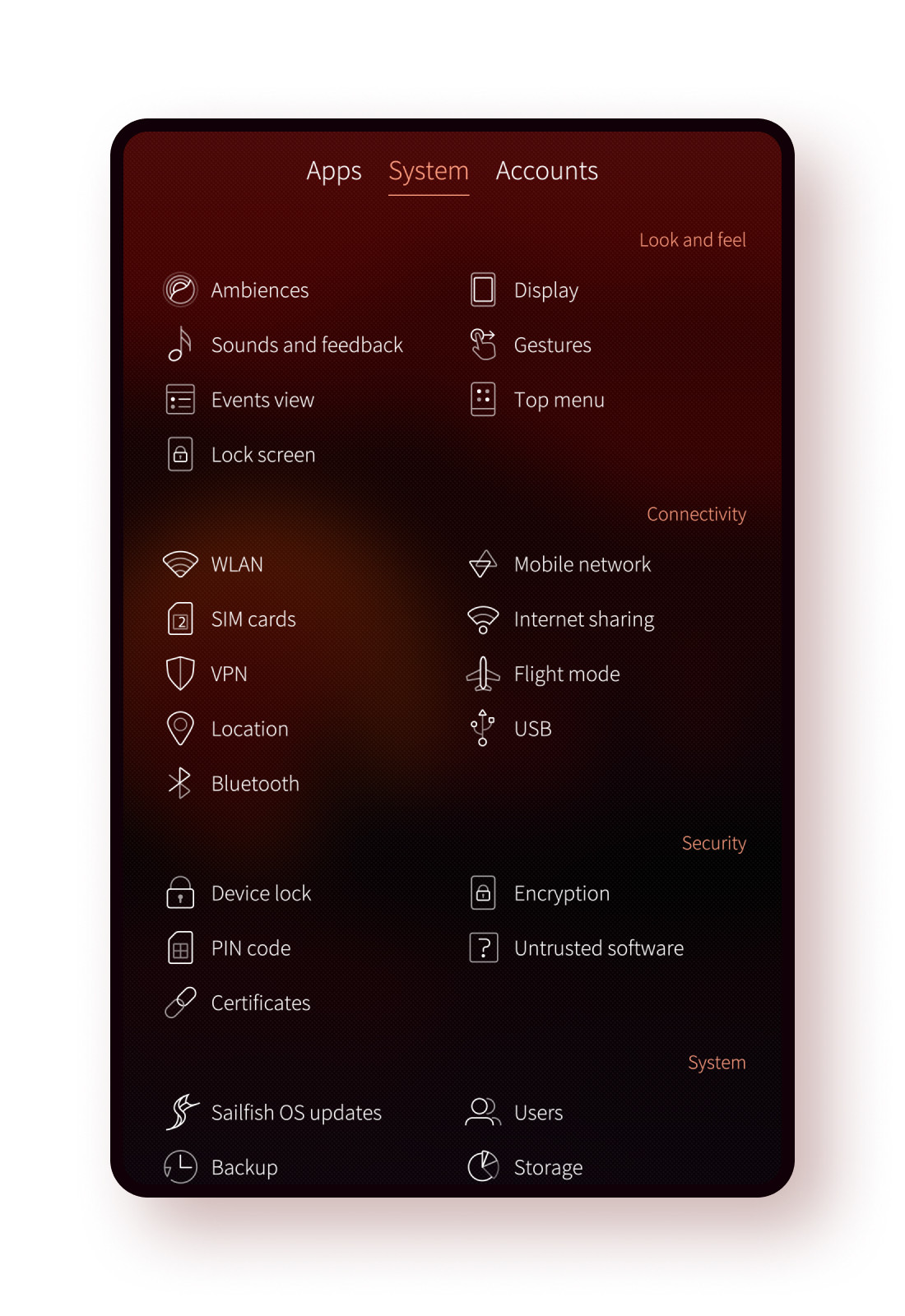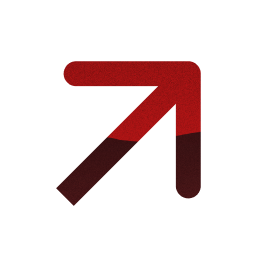 22 APIs
Provision certificates, accounts, connectivity configurations, and other device settings for your device fleet.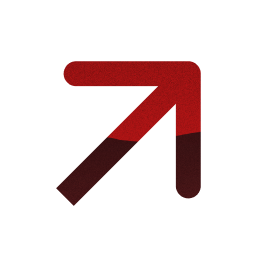 31 Policies
Enforce device policies to match the security requirements of your organization.
Software Management
Perform OS updates and manage installed apps remotely.
Device locking
Remotely lock or securely wipe data from compromised devices.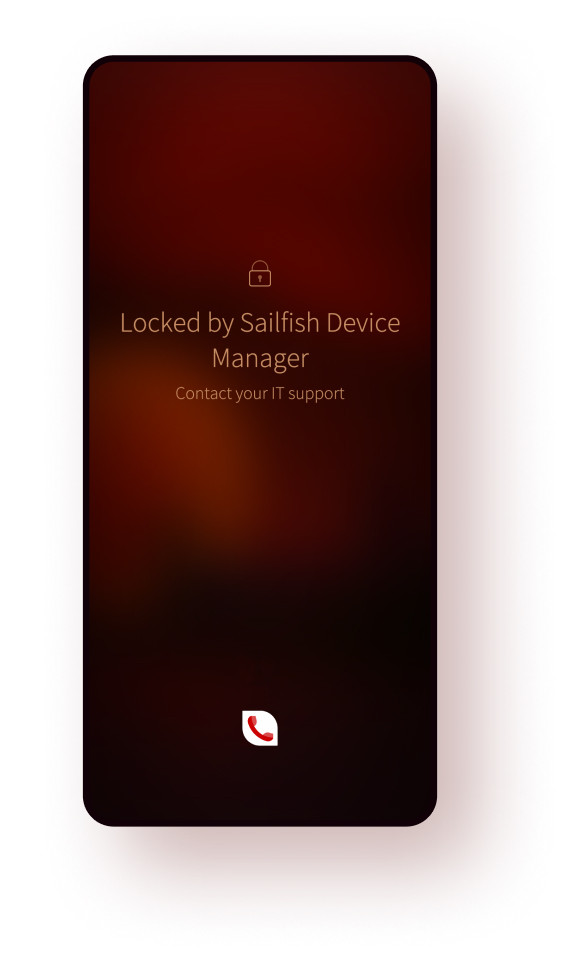 Multiple users
Remotely manage who can access the device, add and remove users, control who can call and send messages, and set permissions for guest users.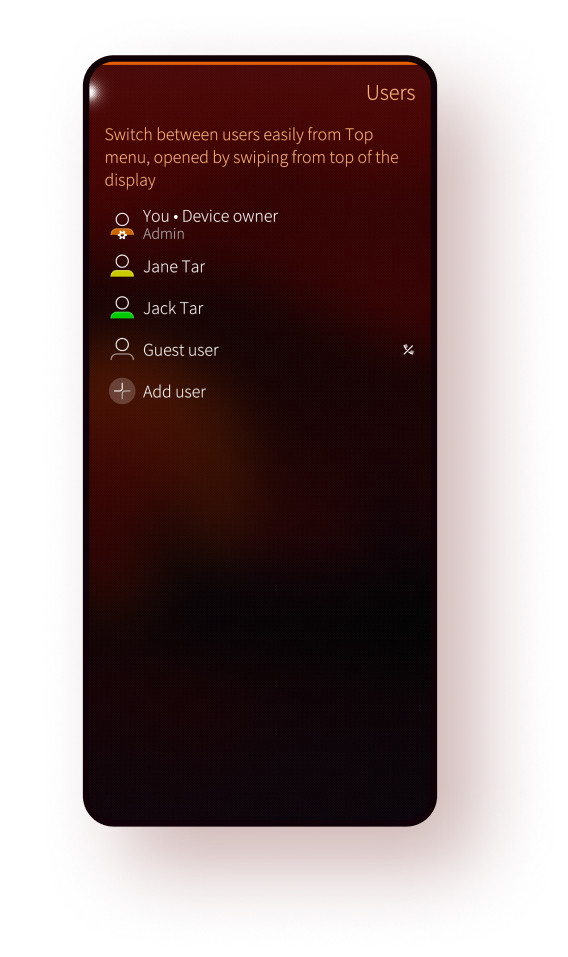 WPA2 Enterprise
WLAN gained support for EAP-PEAP, EAP-TLS, and EAP-TTLS authentication methods.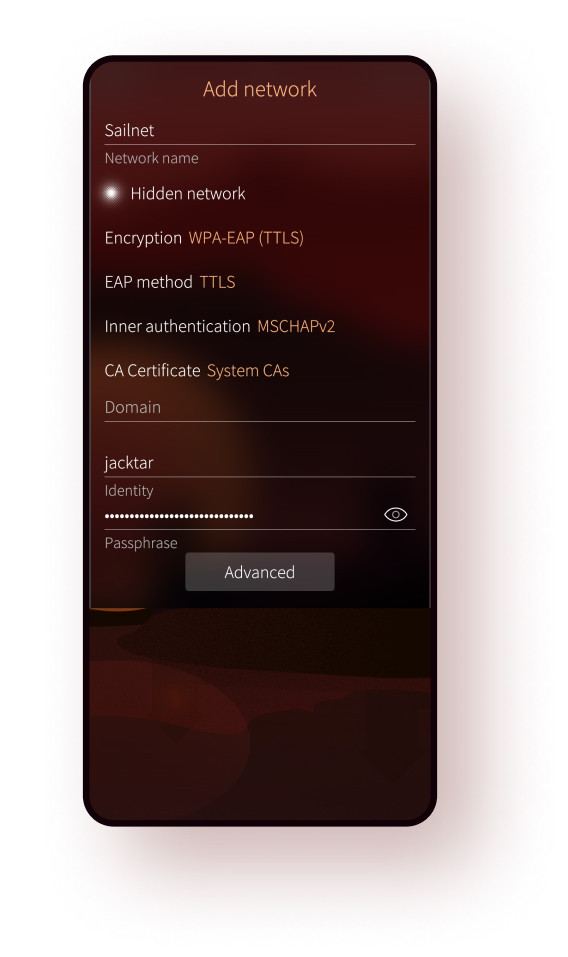 Android Apps
Sailfish OS is compatible with the Android™ ecosystem, and so able to run Android apps and support Android device hardware. However, it's fully independent, and not a derivative or a fork of the Android codebase.
Sailfish licensees choose if they wish to use the Android compatibility part in the OS, or instead opt for fully native solutions.
App support is also offered for other Linux-based systems through AppSupport for Linux Platforms product.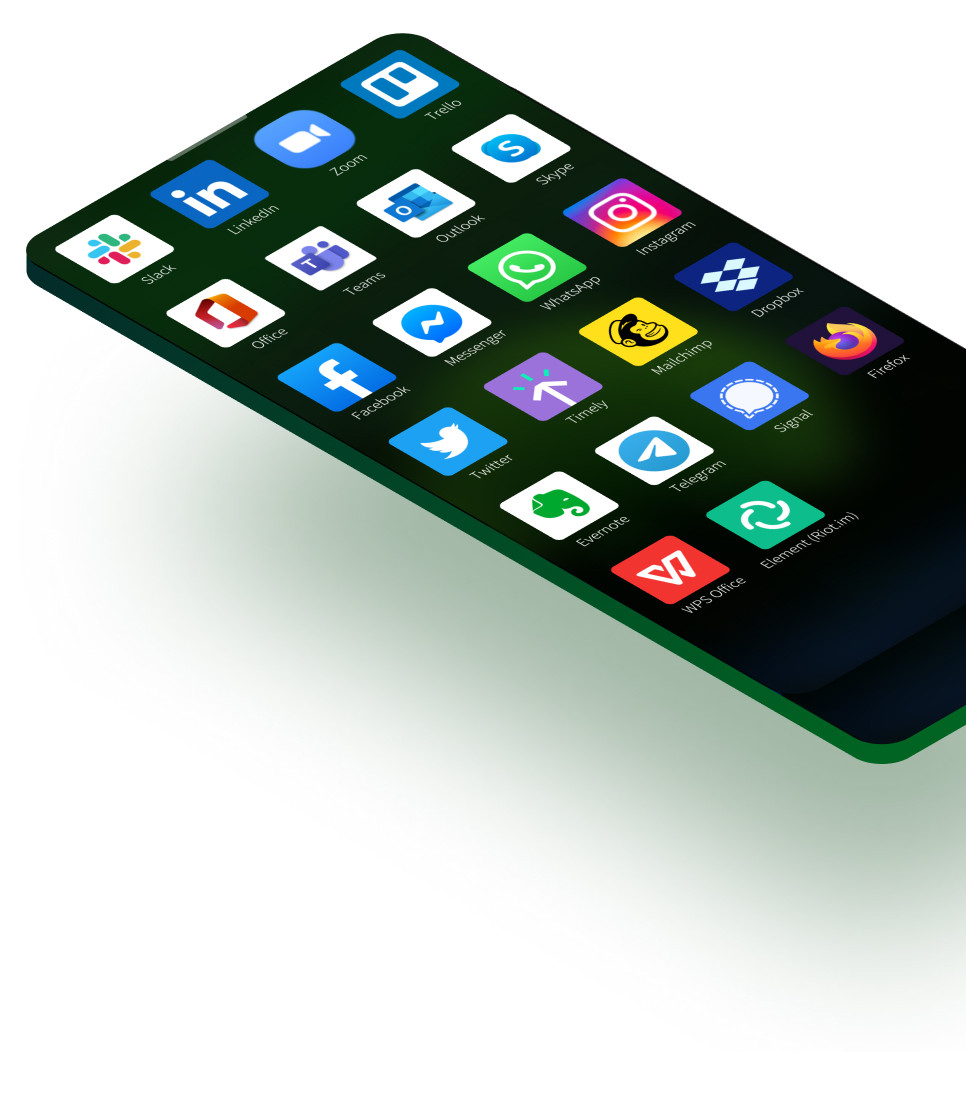 Android App Support in Sailfish 4 has reached Android 11 level. Android apps now support richer notifications, handle audio and video calls better, has enhanced security and can access content from SD cards and detect WLAN connections.
Fourth generation security
Sailfish 4 ensures that your device is protected on multiple fronts: user data is encrypted on the device, network communication is secured using VPN, and the in-built firewall and sandboxing further safeguards your data and device resources from abuse. Over-the-air updates and hotfix releases allow us to address any critical vulnerabilities quickly and promptly.
Firejail sandboxing for apps
Sandboxing limits an application's access to only the minimum needed user data and system functions to contain the damage if an app becomes compromised.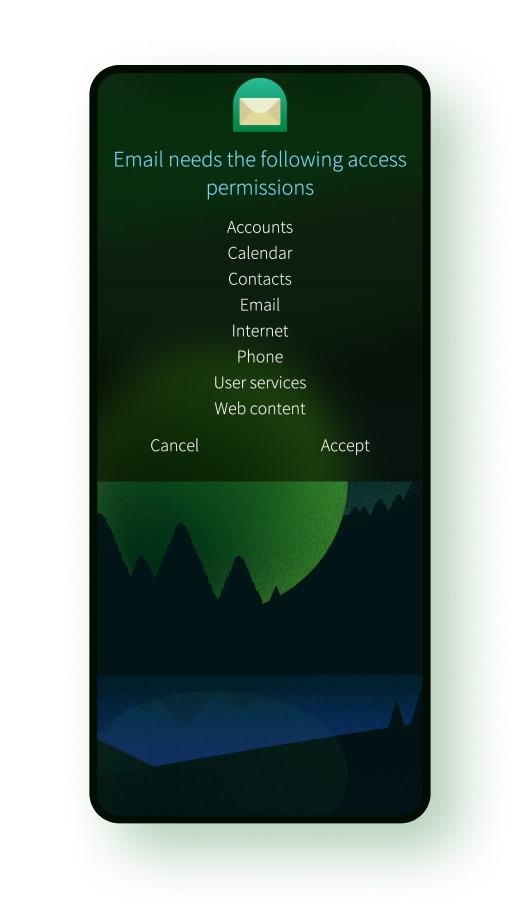 Sandboxed core OS
Core OS services that control critical hardware functionality have been limited to having access only to the capabilities each domain requires, enforced by using systemd sandboxing.
VPN
Sailfish OS has built-in support for common VPNs and a new plug-in API for integrating 3rd party providers. VPN support is powered by improved auto-connection support and route management.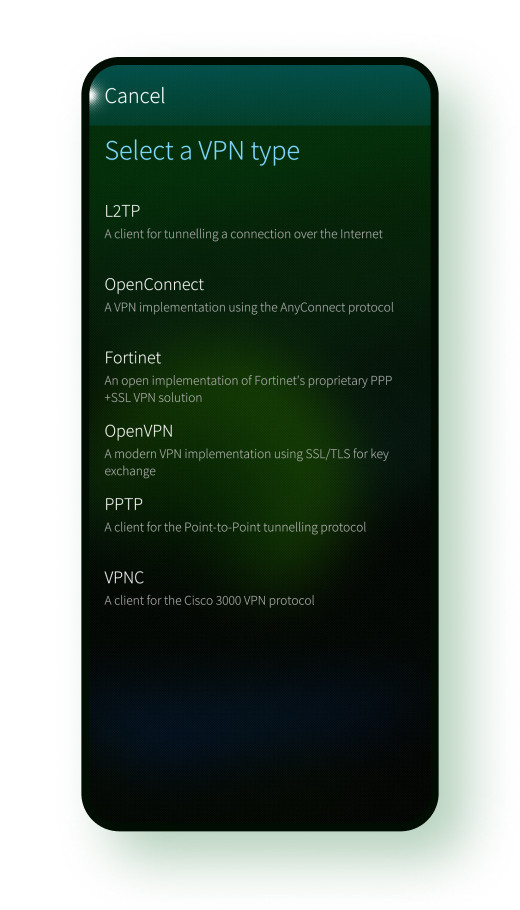 Data encryption
Encryption is enabled on all new Sailfish devices. This helps to keep data safe whether it is stored on the device, on a memory card, or a USB On-The-Go storage.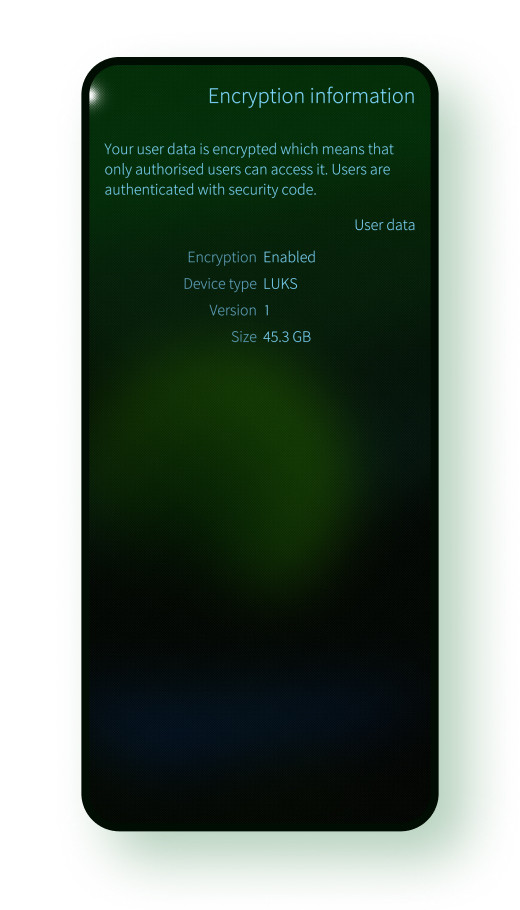 We respect your privacy
We don't collect or sell personal data. Connect devices to the services you trust or set up your own cloud. We don't take any share of digital sales happening on Sailfish OS devices.
Sailfish OS is an open platform based on Linux and over 500 open source projects. Licensees get full source code access to the OS, tooling, and infrastructure.
Automatic backups
Work comfortably knowing your data is automatically backed-up to the cloud. Choose a service you trust or set up your own backup servers.
Rebooted developer experience
Sailfish 4 has greatly improved developer offering with faster cross-platform builds using Docker, a new powerful command-line interface, improved coding assistance with Clang Code Model, 64-bit builds, C++14, Rust, CMake, and lots more! Also remember to check out the new Sailfish OS developer forum.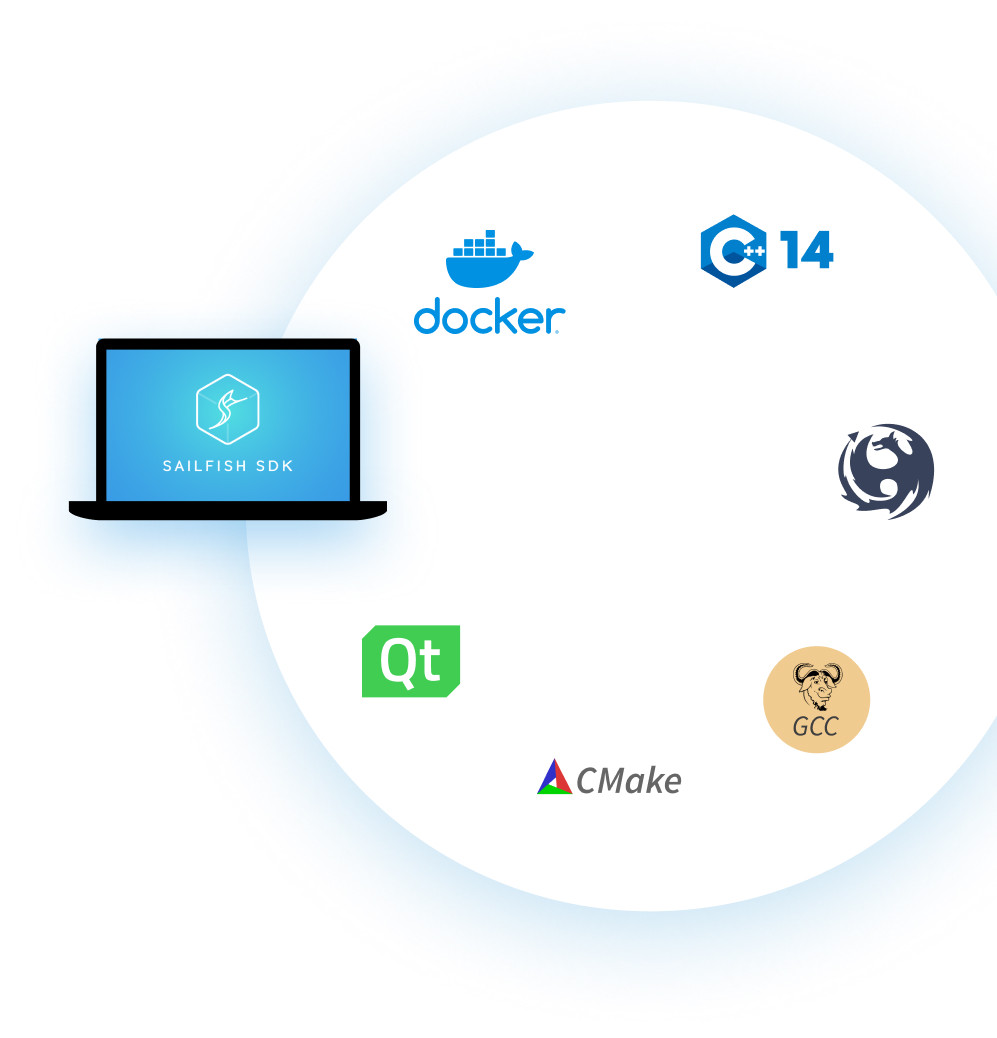 Bridging the API gap
Sailfish 4 answers to the feedback from our customers and technical community: we are opening access to critical platform capabilities. Here are some of the highlights from our roadmap:
Camera
Enable photo capture and video recording using the simplified Camera API with preset defaults, better focus and front camera handling.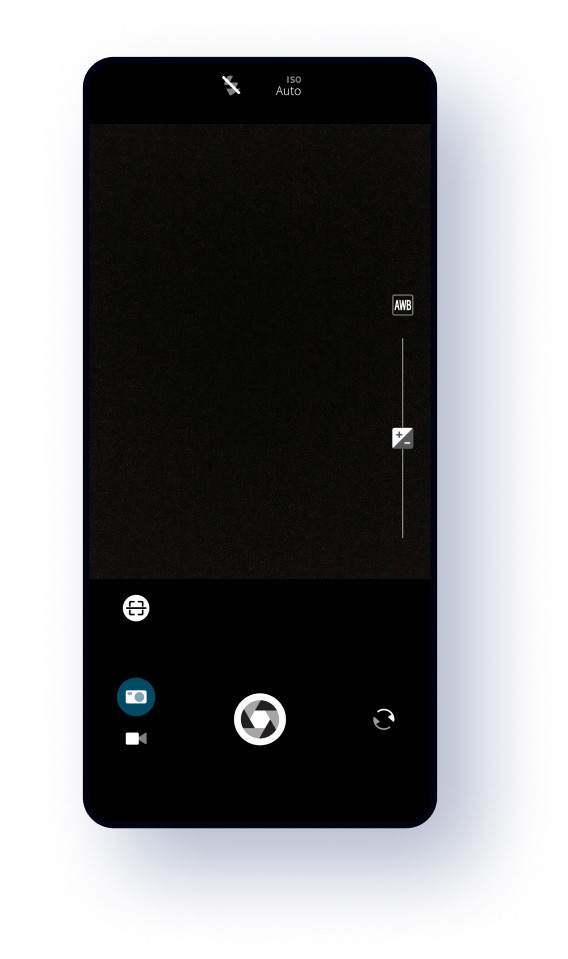 Tabs
Easily migrate your tab-based app from other mobile operating systems to Sailfish OS.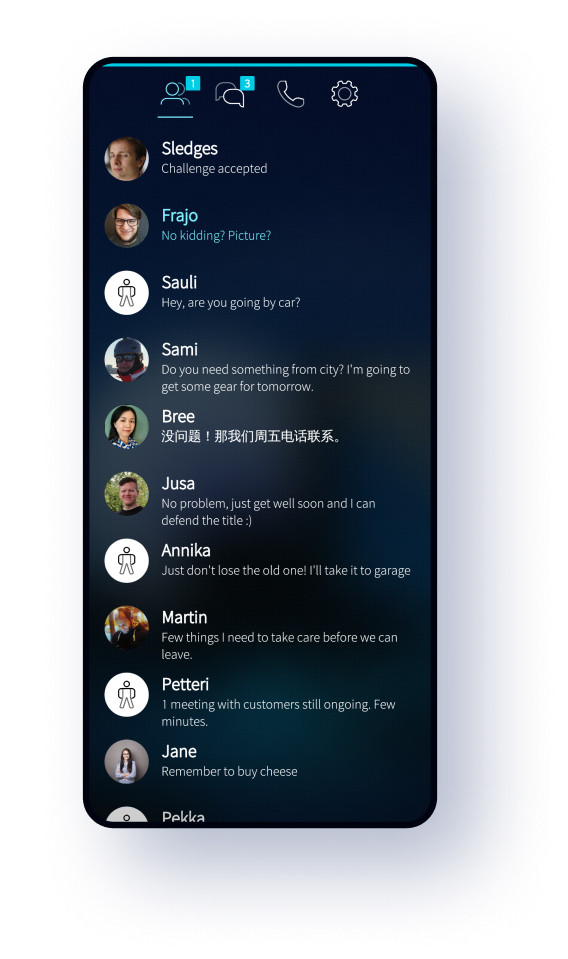 Notifications
Publish different kinds of notifications for your app: display progress, embed different actions, show avatars or other graphics, play tones, customize text layouts, and so on.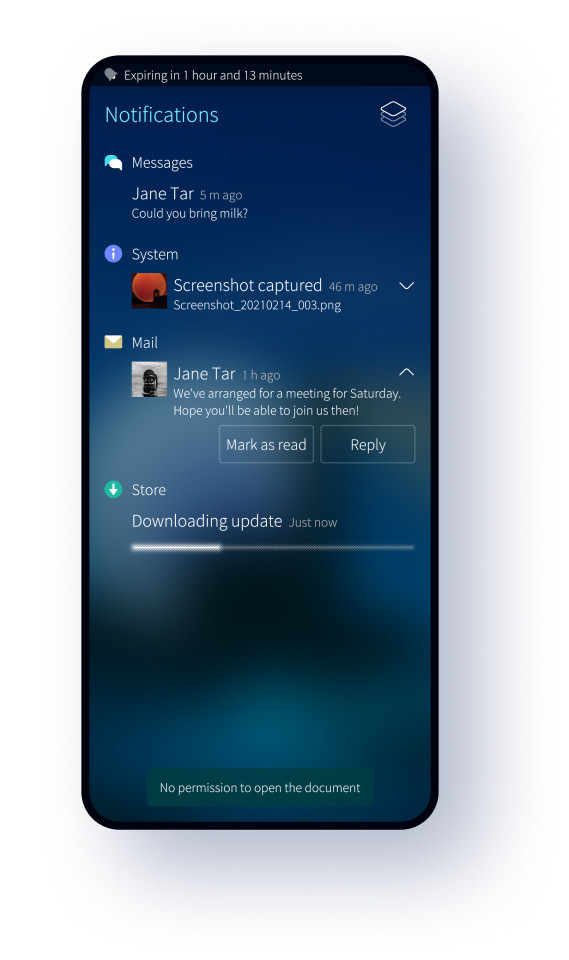 Text Input
Define powerful forms and improve other text editing flows with embedded actions, icons and other indications, user hints, custom backgrounds, validation, and so on.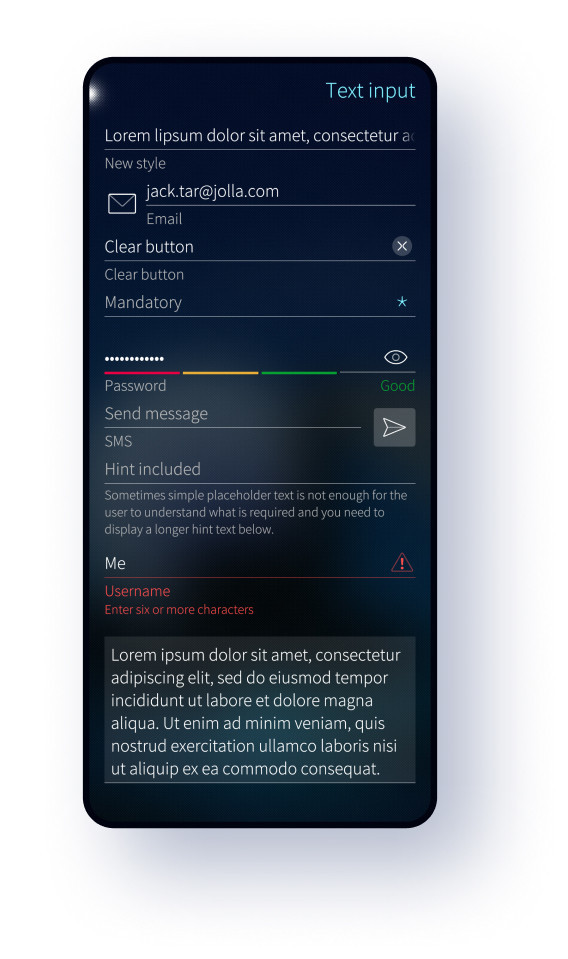 Media controls
Let users control media playback of your app from wired and Bluetooth headsets, in-built hardware keys, and from audio controls on the Lock Screen.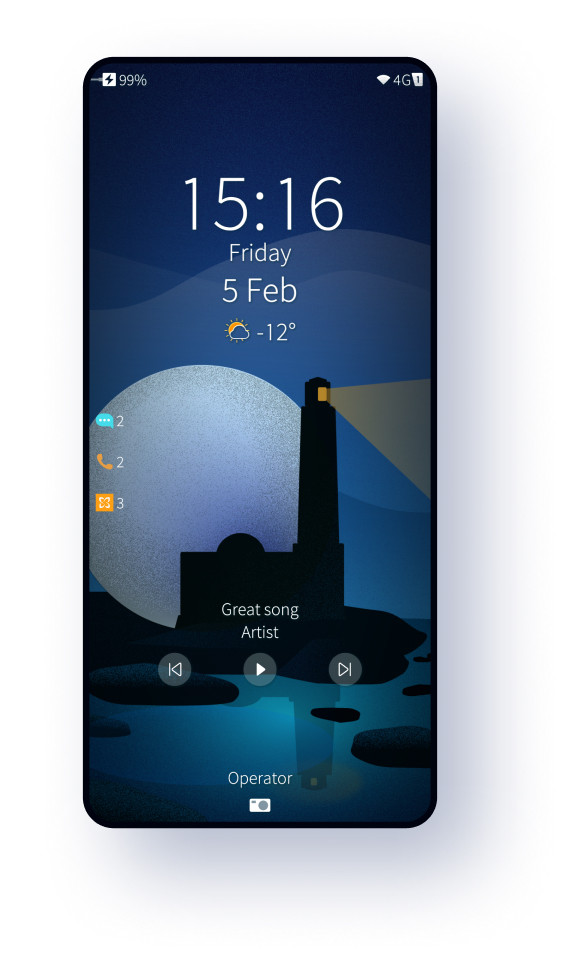 Infrastructure for your ecosystem
Sailfish OS comes armed with a state-of-the-art open source toolchain, release machinery, continuous integration (CI) and build systems, as well as issue tracking and localization tools. Let the global Jolla infrastructure support your business, take the reference infrastructure into use regionally or integrate to your existing infrastructure.
User experience
Sailfish 4 introduces redesigned usage flows for all daily use cases, and a new, crisp visual style improving the legibility across the platform. New ambiences, a significant browser upgrade, and a new battery saving mode to squeeze more usage time out of every device are also part of the Sailfish 4 experience.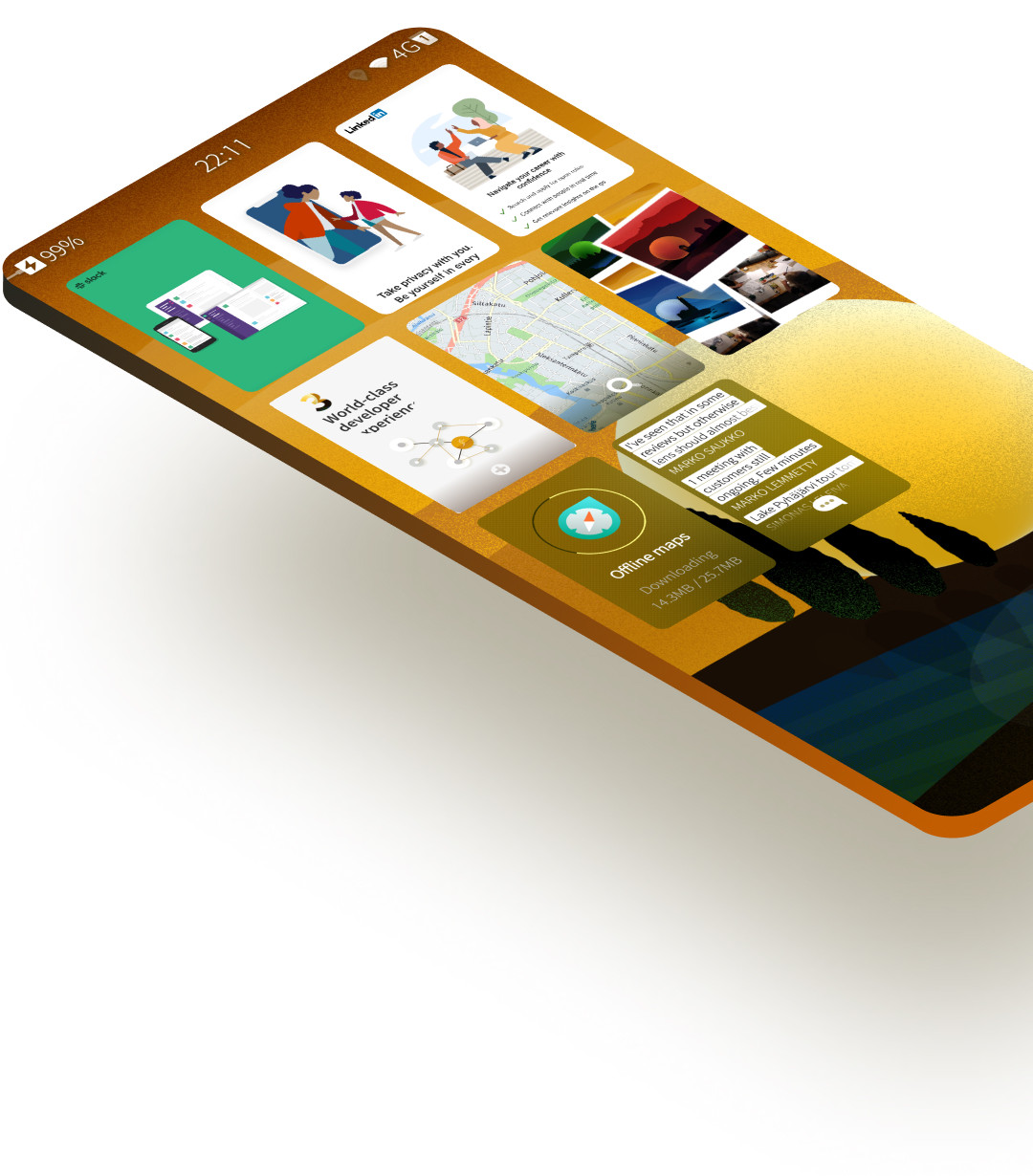 Events view
You can now access your notifications, calendar events, and weather information without unlocking your device.
The entire Events view has gone through a redesign with much improved notifications, better grouping in the calendar widget, and the weather gaining hourly forecast support and new colorful icons.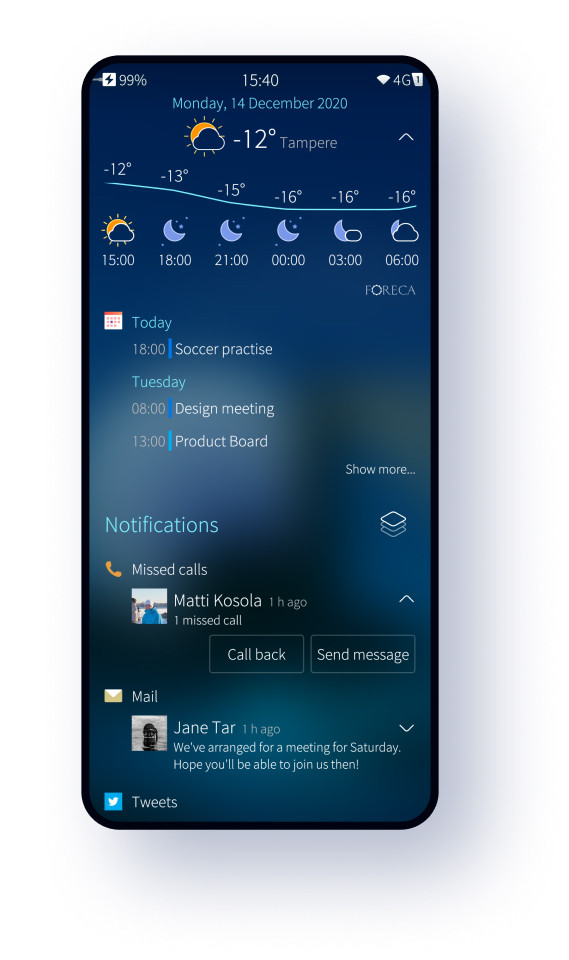 Legibility
Legibility has taken a big leap forward with small, but important tweaks to colors, dimming, fonts, background processing, and effects that result in better contrast.
Further, a special high contrast mode has been introduced for text-heavy use cases like writing emails or reading documents.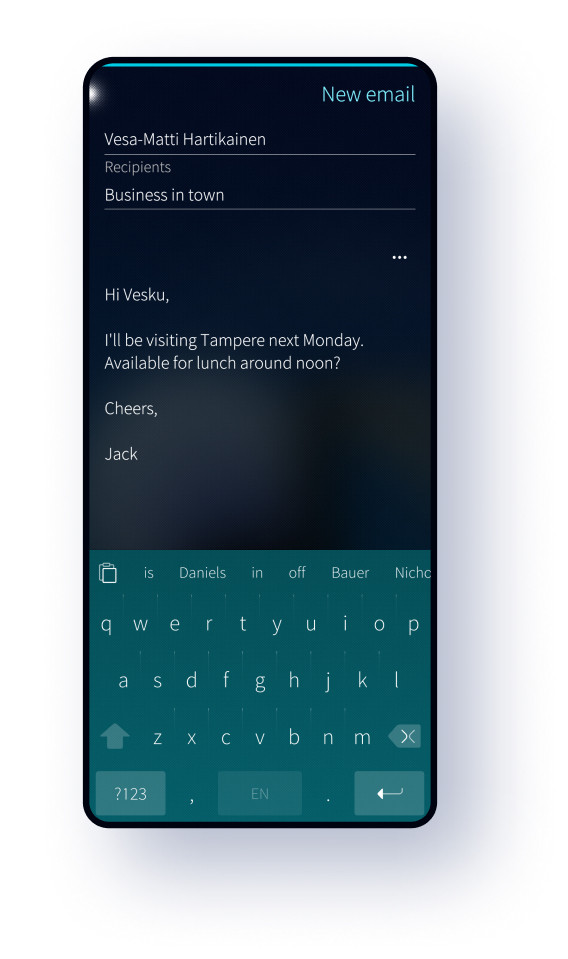 New look
Four gorgeous new ambiences make your user experience feel brand new.
Overhauled Browser
The Sailfish 4 browser is armed with a new browser engine (from Firefox Quantum), designed to take full advantage of the processing power of modern devices. More importantly, the focus of the renewed browser has been on security – introducing features such as site permissions, password manager, and certificate info.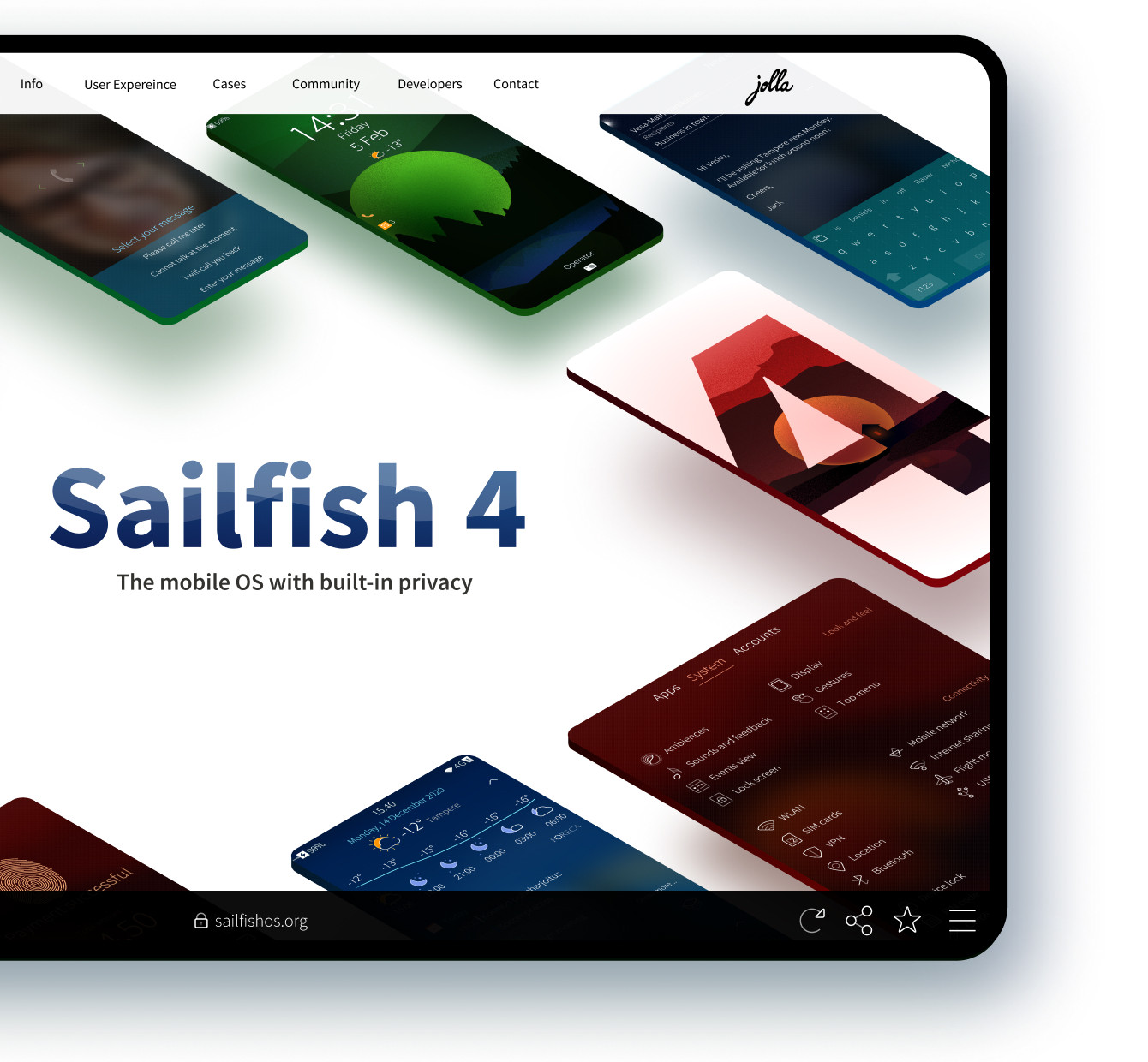 100% Faster
"Firefox Quantum is over twice as fast as Firefox from 6 months ago" — Mozilla
Site permissions
Define access rules for your browser and individual sites. The renewed browser also has new bookmark and history views, and allows you to save websites as PDF.
Captive portal mode
Automatically opened captive portals are now run in a special restricted mode, blocked from accessing system cookies.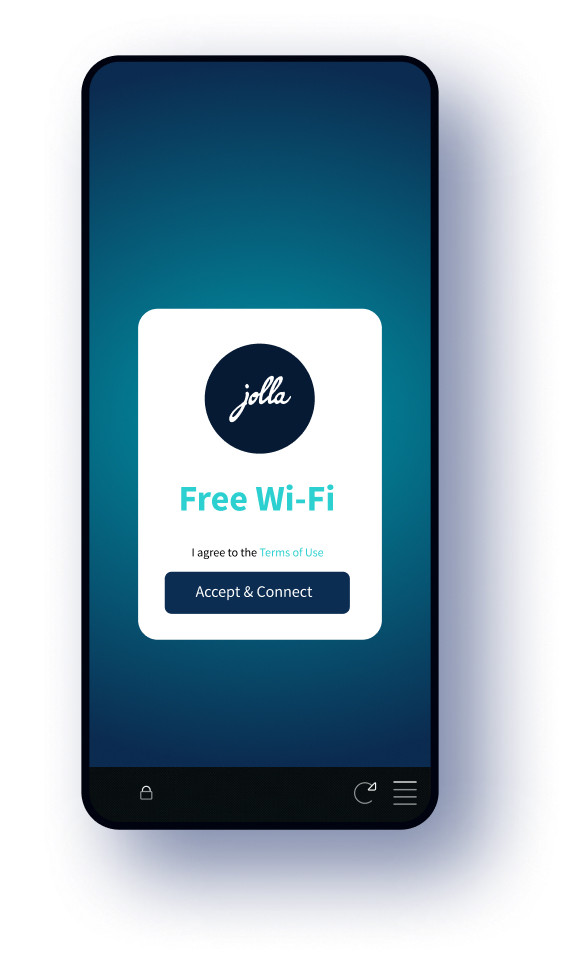 Certificate info
Access site security information easily from the address bar and review certificate issuers. Get notified when security vulnerabilities are discovered.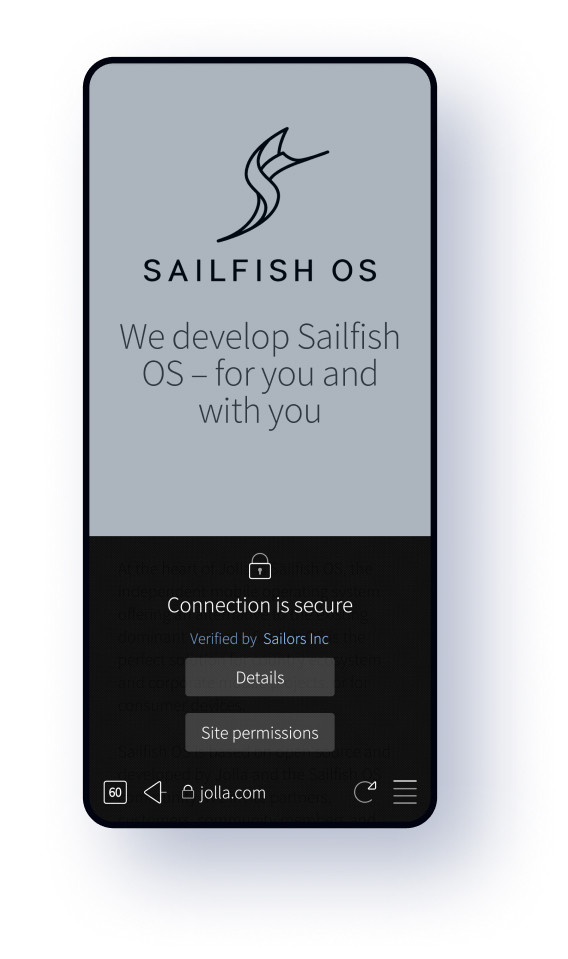 New email viewer
The Sailfish 4 email viewer has been upgraded to a new engine. This enables big improvements to the rendering and compatibility, and new features like copy and paste support.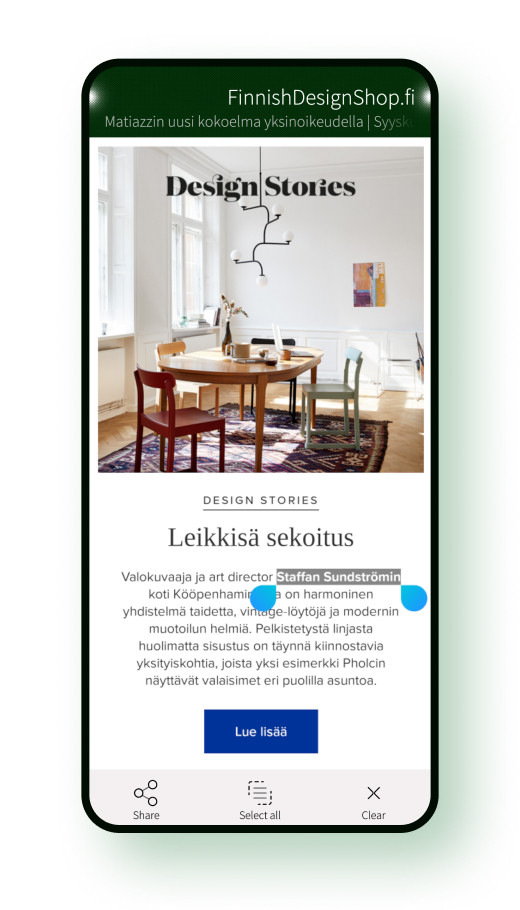 Automatic replies
You can easily set scheduled automatic replies for when you are not available.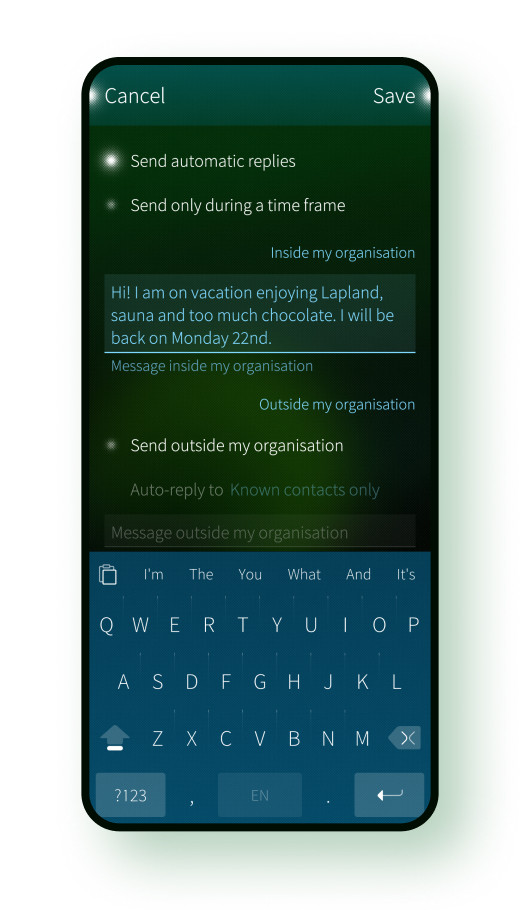 Meeting invitations
You can now easily handle Active Sync meeting invitations in both Calendar and Email apps.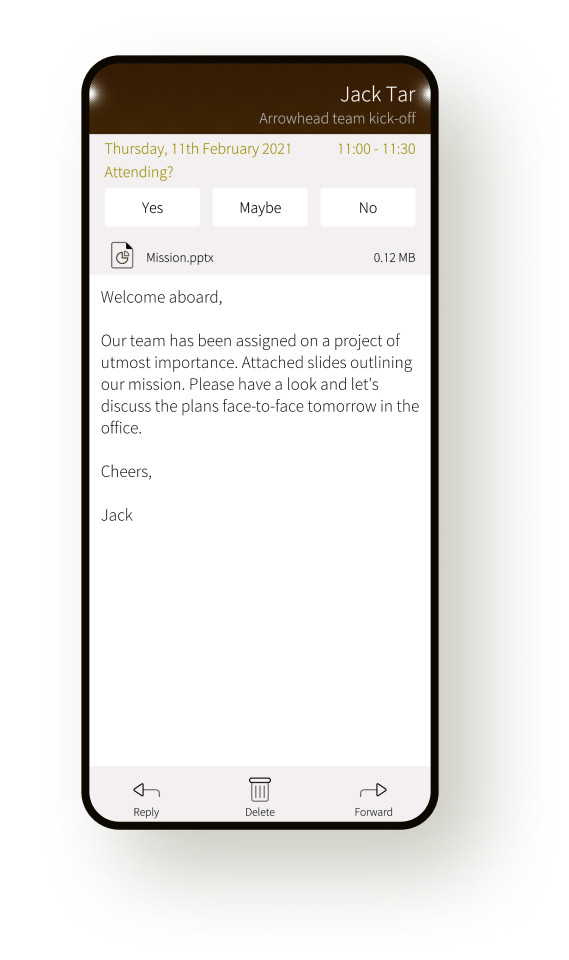 And more
Sailfish 4 Calendar also supports subscribing to ICS web calendars. Email app comes with global address list (GAL) support. Attachment opening is 50-90% faster due to the dozens of optimizations made to the document viewer since Sailfish 3.
Redesigned incoming calls
In Sailfish 4 the gesture indications to answer and reject calls are right under your thumb. Answer by swiping horizontally in either direction without having to worry about whether you picked up the device in the right orientation. Silence by swiping up or by pressing the power key.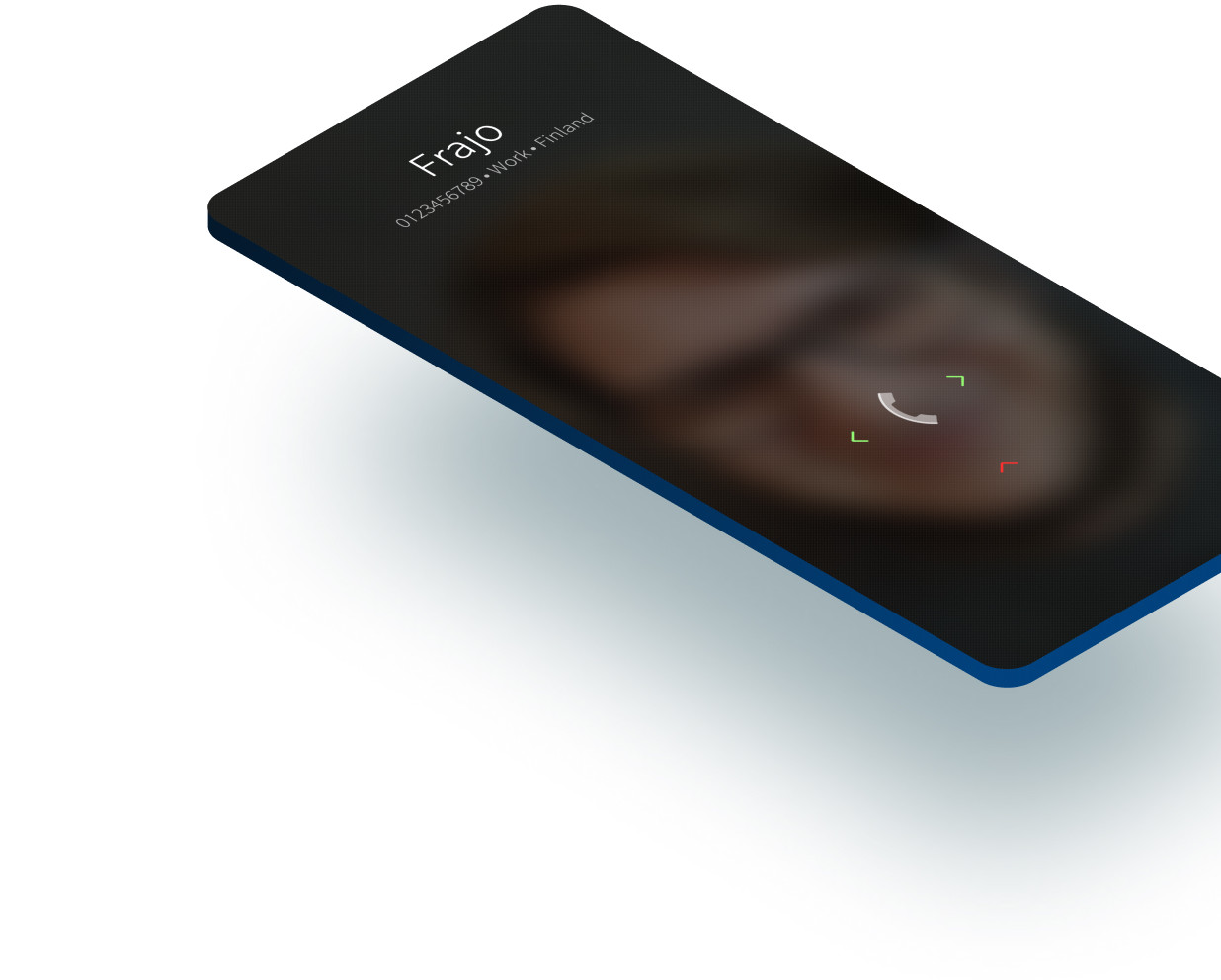 Quick messages
Sometimes writing a reply is a hassle. Send a quick reply and go about your business. You can easily add and manage quick replies in Phone settings.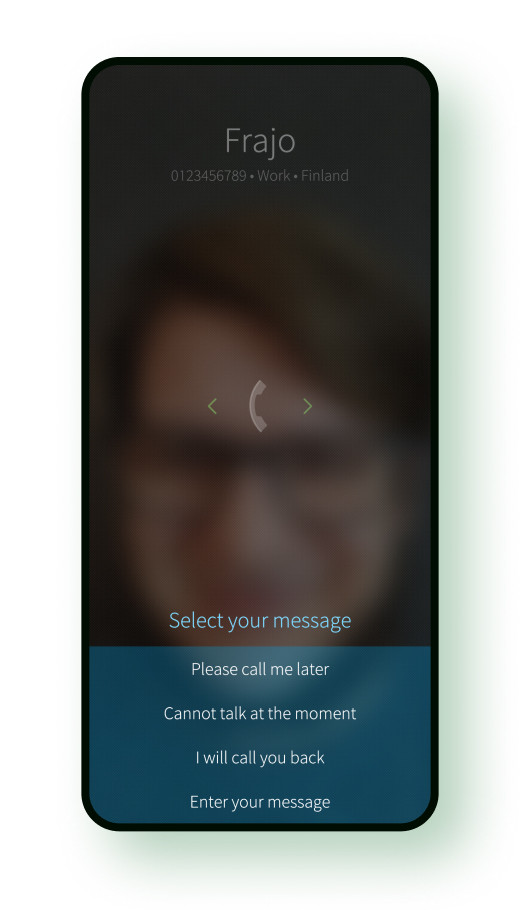 Call reminders
If you are too busy to answer, add a reminder for you to call the person back. You can also easily add and manage reminders in the Phone app.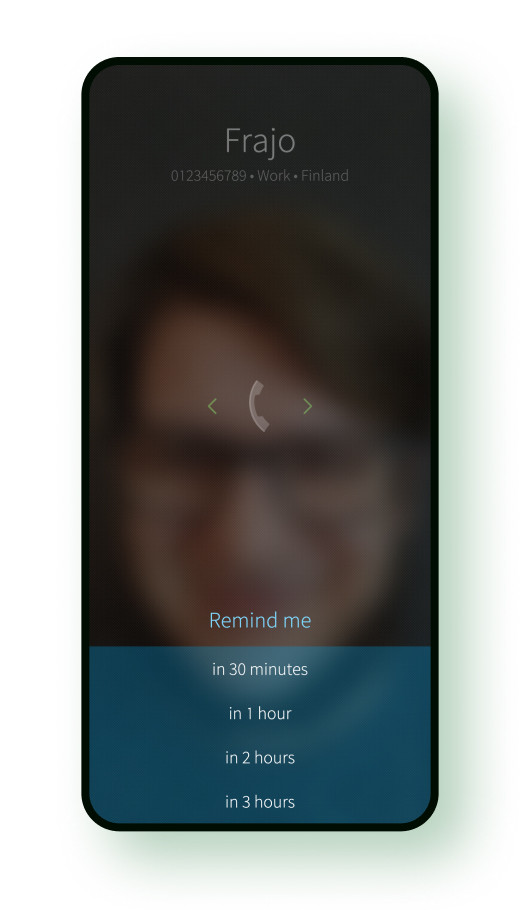 Call ending
The full-screen call ending dialog has been replaced with a smaller popup. If the call was ended by you, no dialog is shown, freeing you up to jump to the next task.
Finding people
Access contacts the way you want: pin as favourites, access from recents, search device contacts or contacts in the cloud, jump to the right contact using the alphabet scrollbar, or just flick to browse all.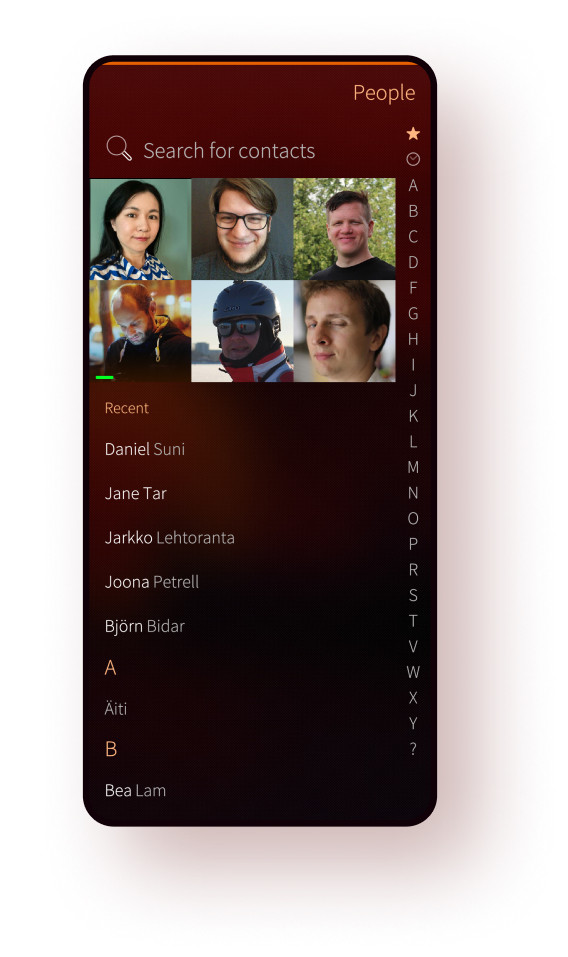 Redesigned contact card
Quickly glance important information on the card and perform actions without the need to manually expand groups like before.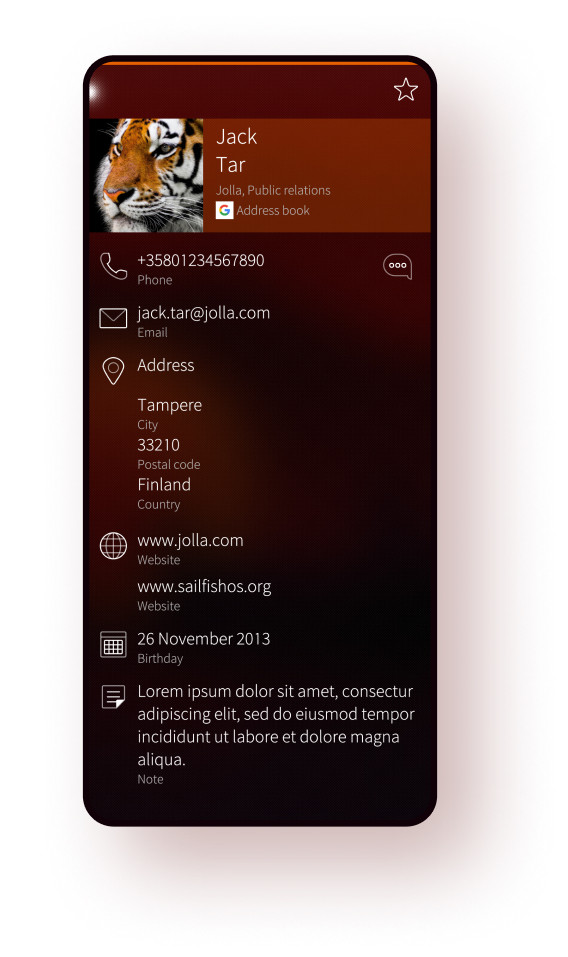 Contact editor
The contact form in Sailfish 4 has been redesigned to make it faster to type the most common details.
Auto completion support now learns from previous inputs, you don't have to type anything twice.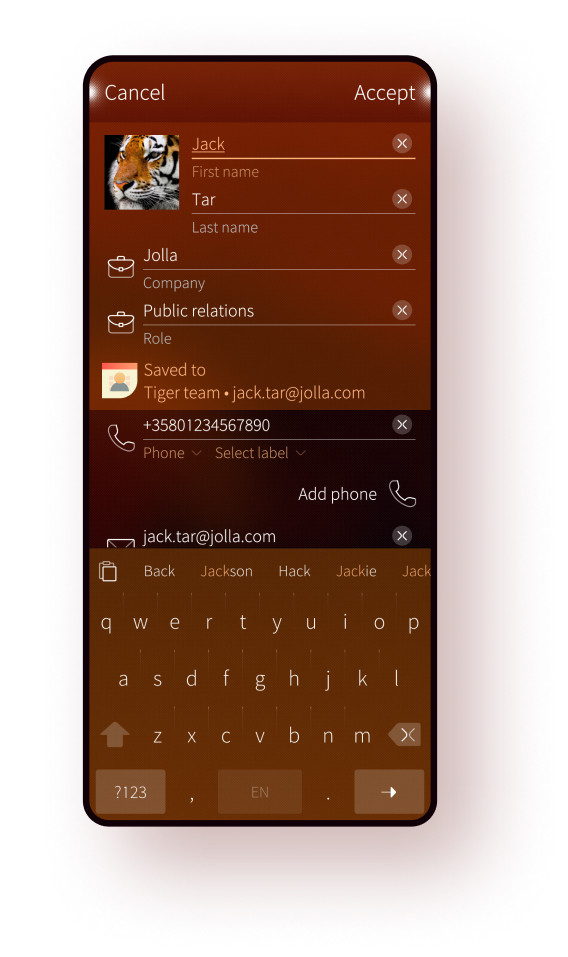 Address book support
Explicitly choose where to store new contacts to avoid leaking data. Easily manage both your personal and company contacts within the same device.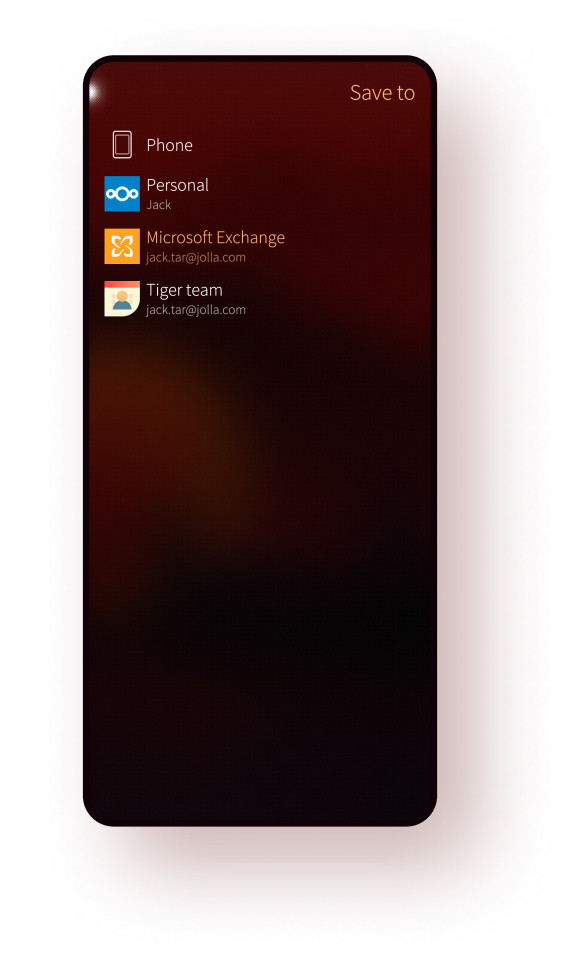 Language and input methods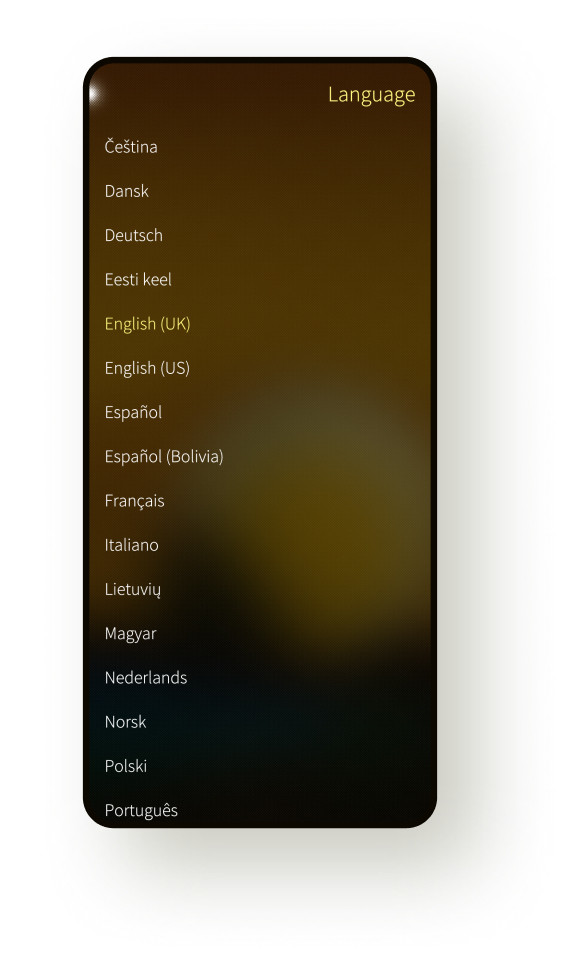 35 supported languages and counting
Thanks to our community, our language and local support is growing all the time. Vietnamese, Lithuanian, Slovak and Romanian are the latest languages to join the party.
World-class text input
Text input support comes with all the bells and whistles you would expect: XT9™ text prediction and error correction, dead key support for inputing diacritics, split keyboard for thumb-friendly landscape typing. Chinese keyboards support pinyin, stroke, and handwriting inputs.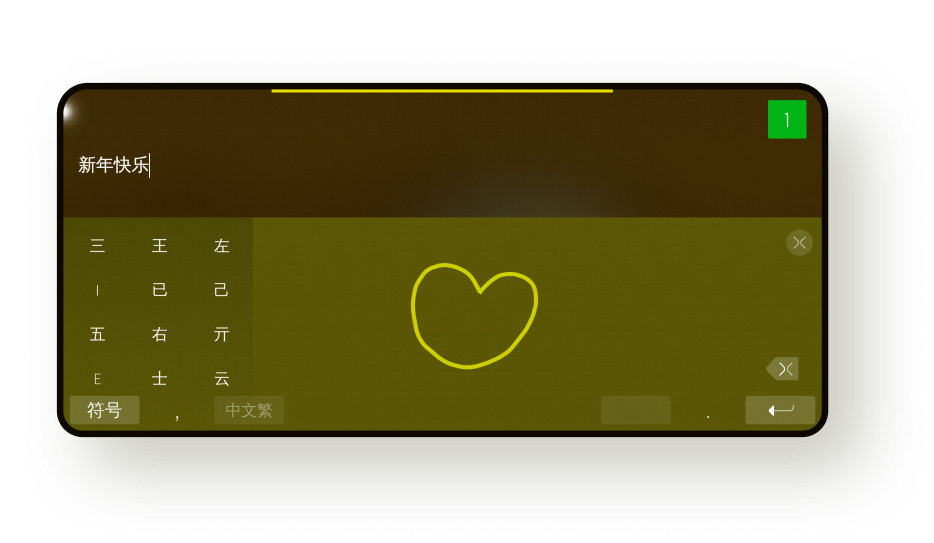 Better hardware keyboard support
In Sailfish 4 you can now select multiple key layouts for your peripherial Bluetooth or USB-OTG keyboards, and switch between input languages using the Ctrl+Space shortcut.
Audio recorder
Easily record and playback audio clips. Manage recordings and easily share over different connectivity and messaging options or upload to one of your online accounts.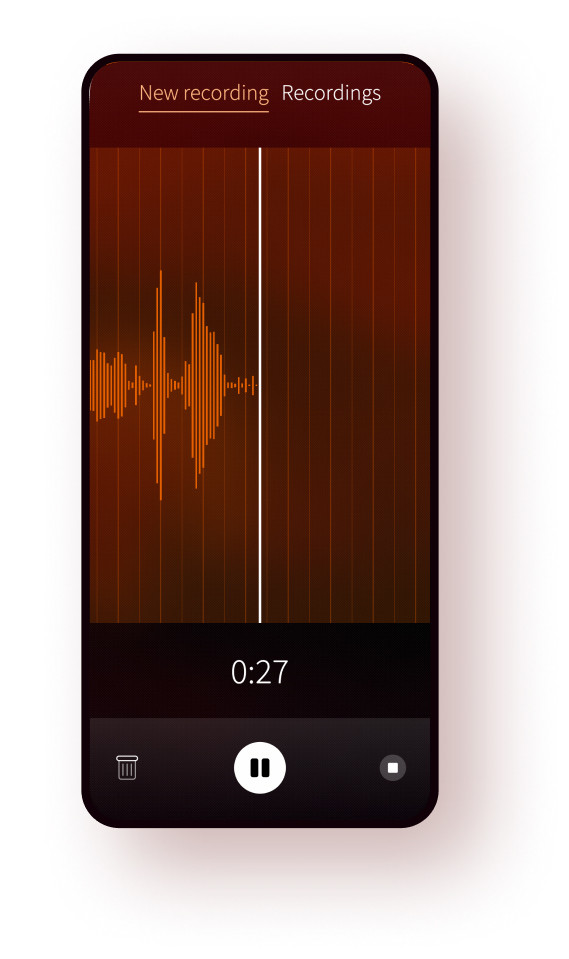 Redesigned conversations
Messages has been supercharged with better grouping and simplified style. A contact header has been added to make it easier to see who you are talking to. Also the send button is now more prominent.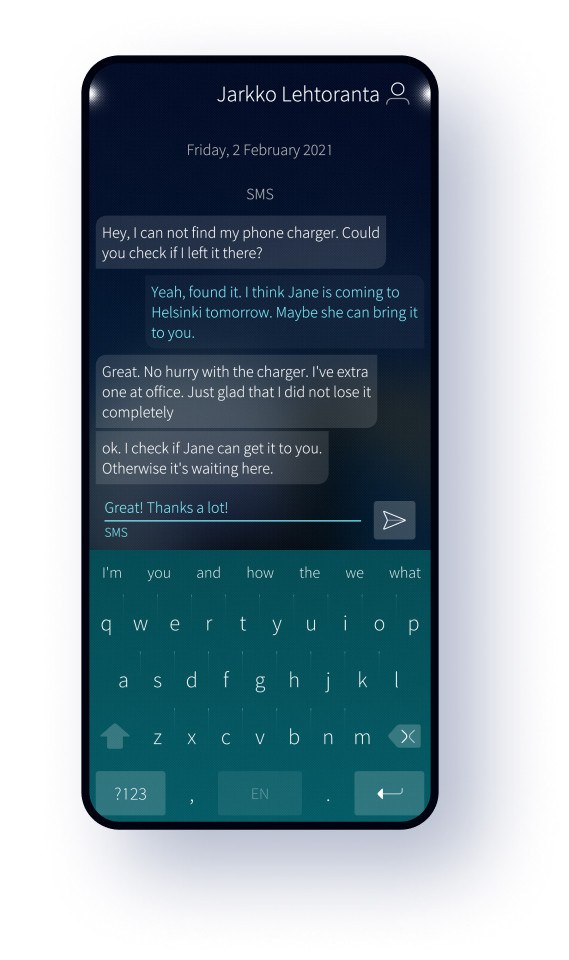 Battery saving mode
Enable battery saving mode to squeeze more usage time out of your device, and even set automatic thresholds based on your preferences.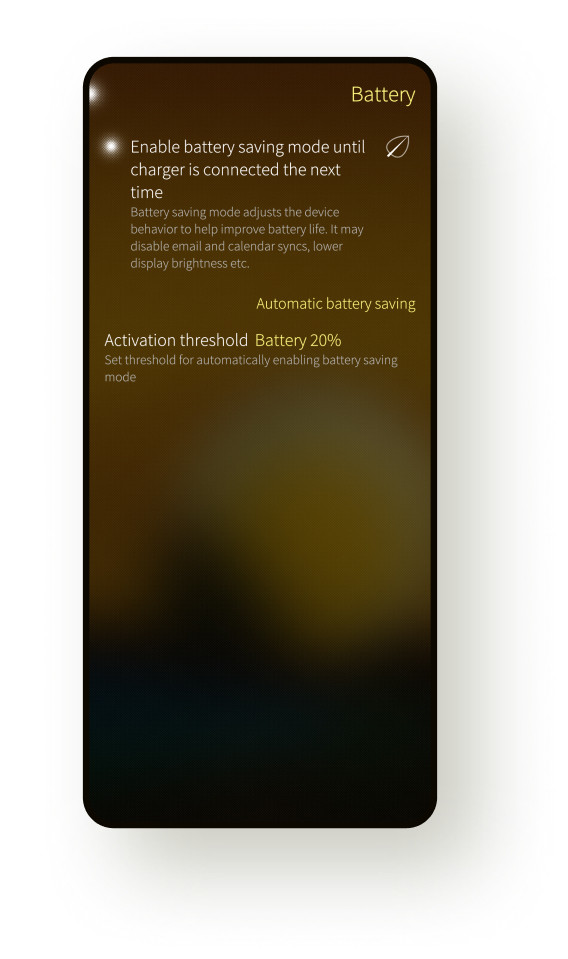 QR code reading
Open links to websites and apps with the Camera app without having to manually type the URLs, or set up a WLAN hotspot using a QR code.